Status Update for 2023:

Looking forward to a great 2023 season. Opening the weekend before Thanksgiving.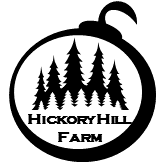 Welcome to Hickory Hill Farm in Harford County, Maryland! We are a grower and retailer of balled, fresh cut, and choose and cut Christmas trees, roping, wreaths and decorations. We are a family business focused on providing a wholesome farm experience to families during the Holiday season.
OUR PRODUCTS

Come see this year's selection of fresh pre-cut trees: mostly Fraser Firs. We also offer wreaths, roping and related Christmas decor. Food and activities for the kids are available to complete your experience. Our goal is for your family to enjoy a holiday tradition!

In 2023, we have a beautiful selection of pre-cut trees, wreaths, roping and Christmas decor while we try to replenish our seedlings.
HISTORY

In 2010, our family realized a dream by purchasing a farm in Harford County near Bel Air. We wanted to enjoy the outdoors and give the boys room to run. We found ourselves with acres of growing Christmas trees. The farm had been operated in years past, but we had a lot of catch up work. We put on our work boots and we are farming Christmas trees. The whole family is pitching in, mom, dad, boys, grandparents and friends.

We hope you find our site friendly and informative. If you have any questions or suggestions, please contact us.

We are excited for another season of fun on the farm with our family and friends!
​DIRECTIONS
We are conveniently located on Route 543 just north of Bel Air.
From Route I-95, take Exit 80.
Take Route 543 North. Drive about 8 miles.
The farm is on the right. Look for the flags.
From Bel Air, Take Route 1 North to Hickory.
Turn left on Route 543 North.
Drive about 3.5 miles. The farm is on the right.
Look for the flags.
From Conowingo, Take Route 1 South to Hickory.
Turn right on Route 543 North.
Drive about 3.5 miles. The farm is on the right.
Look for the flags.