2022 Status Update:

Opening Day is Saturday November 19, 2022!

Getting ready for a great the holiday season with our family and friends!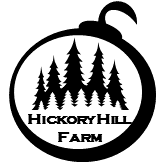 GIVING BACK TO THE COMMUNITY
With long established family roots in Harford County, we believe in supporting our community. Our goal is to enjoy our farm and give back to our community by:
allowing families to enjoy our farm during the Holiday season and

donating a portion of our sales to community organizations.
​
To limit close contact and enhance safety precautions, the train garden will be closed in 2020.
​
We introduced our train garden in 2013. One of our customers is an avid train enthusiast. He had been looking for a place to share his work. We made some space and Hickory Hill Train Garden was born. Hickory Hill Train Garden has been a labor of love and a dream come true.
​
In the spirit of our commitment to giving back to the community and goal of providing a wholesome place for families to make memories that become traditions, admission is free.
​
In the last few years, through the generosity of our families, we donated over $2,000 and 700 pounds of food to Harford County Food Banks.
​
Non-perishable food donations are accepted for local food banks.
​